PAC-MAN GHOST ZONE (PMGZ) went from proposal to full production at Hometek.  It was to be the first full 3D Pac-Man adventure game on the Playstation.  My main tasks on this project were level building, character modeling, animation, mapping, conceptual art and assisting in level design.  While many levels were built and the game was partially programmed, this version of Pac-Man was ultimately shelved.  In this area of the site I will show a cross section of the work I created for PAC-MAN GHOST ZONE.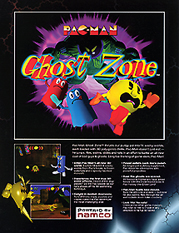 A promotional sheet from marketing

that was released in 1997.

Click on titles to go to the art samples.